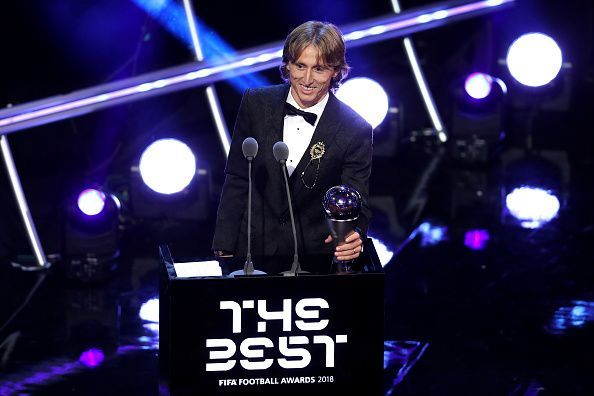 Luka Modrić is the first ever player to win the World Cup Golden Ball, UEFA Men's Player of the Year and FIFA World Player of the Year (or equivalent) in the same year.
The wait to discover who collects the biggest individual award in football is finally over, and the winner of the prestigious award is the Croatian master Luka Modric. The midfielder has come a long way from being declared as the worst signing in La Liga history, to winning the award.
The Croat was influential in helping Real Madrid to win three consecutive Champions League titles. The midfielder was then the influential figure for Croatia in the 2018 World Cup, who with help of Modric, reached the World Cup final for the first time in their history. In addition to UEFA's Player of the Year, Modric has added the FIFA's Best Award to his collection.
Modric finally ended the streak of Ronaldo and Messi winning the best footballer award after a span of 10 years. Modric's counterpart Mohammed Salah was awarded the Puskas Award for his goal against Everton. Ronaldo, on the other hand, went trophyless the awards.
Modric even congratulated Mohammed Salah and Cristiano Ronaldo for their great season. After winning the award, he said:
It's a great honour and beautiful feeling to stand here with this trophy.
I would like to give congratulations to Mohamed and Cristiano for the great season that they had. I am sure in the future you will have another opportunity to fight for this.
This trophy is not just mine. It is for my Real Madrid team-mates, the Croatia national team and all my coaches. This is also for my family, without who I would not be the player I am.

Previous Winners:

Ronaldo - 2008

Messi - 2009

Messi - 2010

Messi - 2011

Messi - 2012

Ronaldo - 2013

Ronaldo - 2014

Messi - 2015

Ronaldo - 2016

Ronaldo - 2017

Modric - 2018

After 10 years, the streak has been broken.